Yuki Yoshimo (also Yukie Yoshimo) is a female Warden trainee of the White Council. She first appears in Dead Beat.
Description
Edit
Yoshimo is a trainee recruited to fight the Heirs of Kemmler and to stop the Darkhallow from being performed on Halloween. She was recruited because of sudden serious shortage of wardens due to The War.[1][2]
Yoshimo is of Asian descent.[1] She is distantly related to Shiro Yoshimo, and possibly also a descendant of Shō Tai, the last King of Okinawa.[3]
Yoshimo's magic specialty is wind control.[4]
In the series
Edit
Dead BeatEdit
In Dead Beat, Yoshimo is a young Warden, fighting under Anastasia Luccio's command and brought to Chicago where she met Harry Dresden at McAnally's Pub.[1][2] She broke her thigh in the fighting.[5]
"War Cry"
Edit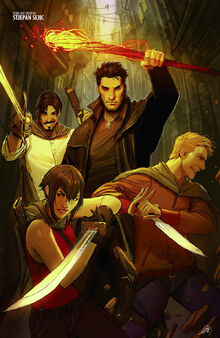 In "War Cry", Yuki's leg has healed, allowing her to lead her fellow Wardens in a run to Montezuma. There, she joins in the defense of a group of Venatori guarding a shoggoth and is captured with Carlos Ramirez by Baron Bravosa.[4]
White NightEdit
In White Night, Harry Dresden contacted her to inquire about her family tree to see if she was related to Shiro Yoshimo, which she distantly was.[3]
References
Edit
External links
Edit
Community content is available under
CC-BY-SA
unless otherwise noted.