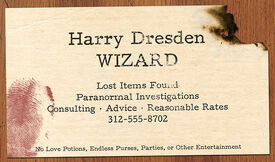 The Dresden Files is a contemporary urban fantasy series of novels by author Jim Butcher. They are told in first person narrative by the human wizard and private investigator Harry Dresden, who tells of his investigations into supernatural disturbances in modern-day Chicago. So far, the series consists of fifteen novels, along with several novelettes and short stories.
It has been adapted into a television series: The Dresden Files.
Chronology
Edit
The internal chronology of the Files is as follows:[1]
Note: The chronology of the works between Small Favor and Turn Coat is not clear, and it is presumed to follow the order in Side Jobs.
Note: It was originally planned for the Dresden Files to contain 20 Case Files and finish off with a Big Apocalyptic Trilogy. However, Butcher has stated in several signing sessions that the events of Changes were supposed to have happened in book 10, and that case files might run up 24 books instead of just 23.[2]
The Science Fiction Book Club released four Dresden Files hardcover omnibuses, which include the novels from Storm Front to White Night.
Omnibuses
Edit
References
Edit
External links
Edit