This article is for the Order of the Blackened Denarius. For other uses, see Order.
The Order of the Blackened Denarius, whose members are referred to as Denarians or Knights of the Coin,[1] is an organization of fallen angels bound to thirty ancient silver coins, the denarii,[Footnote 1] and seeking to bond with human hosts. The coins are said to be the silver pieces given to Judas Iscariot[Footnote 2] in exchange for his betrayal of Jesus.[Footnote 3] Of the thirty coins, eleven are currently believed to be in the possession of the church.[2][3]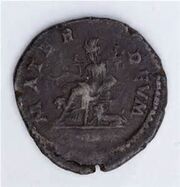 Each coin carried by the Denarians contains the trapped spirit of a Fallen Angel.[2] Whoever touches the coins is tainted by the Fallen within, tempted and given power; the Fallen leads the mortal deeper and deeper into its influence until eventually they have surrendered enough of themselves that the Fallen can take control.[4].
The Knights of the Cross use a square of white blessed cloth bearing two pairs of crosses embroidered with silver thread to pick up and transport the coins to the Church for safekeeping.[5] However, Dresden and others have safely carried one or more coins through more mundane means, such as gloves to prevent direct skin contact, or by storing them in a bag.[2]
Lasciel tells Dresden that the Church's precautions are useless because forces like the Fallen cannot be contained by mere mortals.[6]
Coins believed to be secured
[
edit
|
edit source
]
That's the problem with you nearly immortal types. You couldn't spot a pop culture reference if it skittered up and implanted an embryo down your esophagus.— Harry Dresden, referencing the Alien franchise.[33][Footnote 4]
The possessor of a coin can draw on the Fallen's power to shapeshift, heal wounds and more, becoming more powerful when inflicting pain and suffering on others.[7] Many have been alive for a long time and some have developed talent for magic. Harry Dresden calls them certifiable nightmares. They are very hard to kill.[2]
Their ability to shift into a form more suitable for fighting usually arms them with such weaponry as claws, fangs, horns, poisonous bites, hair that is razor-blade sharp, etc. Molly calls that ability "Battleshifting". Each Fallen has their own preferences that seem to adapt to the holder of the coin.[34]
They have a cult of human goons with their tongues cut out. In addition, they have guard dog-like creatures that are ugly, fast, and have big teeth. What makes them the most dangerous is the Fallen themselves. They are older than time and have spent thousands of years learning the mortal world and the mortal mind. They understand things humans can't grasp. They know every trick and move. They are riding shotgun with each holder or in the driver's seat. They have a perfect memory and a vast library of information.[34]
They were signatories to the Unseelie Accords until Small Favor when the Accords were violated by Nicodemus; he later mentions to Dresden that he's not a member of the Accords anymore. It is unknown whether this just applies to him or the entire order.[2]
Community content is available under
CC-BY-SA
unless otherwise noted.